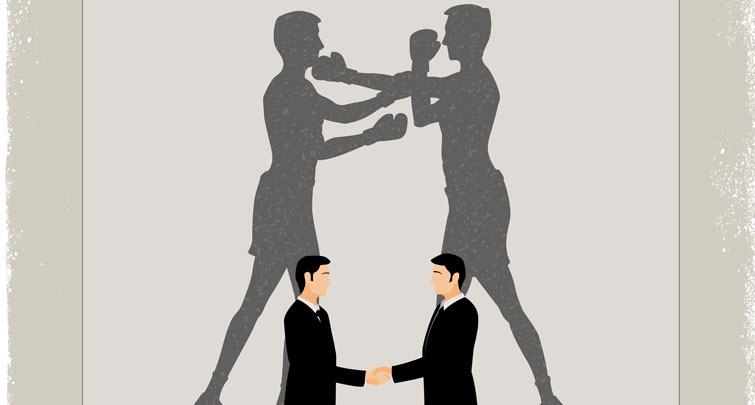 How Rivalries Breed Business Success
To me, March means one thing – MADNESS. For those of you who opt out of the friendly office pool and are too busy to be bothered by a
shot at $1 billion
, March Madness is the remarkably appropriate and enduring nickname for the annual men's NCAA college basketball tournament.
As a college hoop head and native North Carolinian, there is one very important prelude to arguably the greatest event on the sports calendar. This Saturday, March 7, the North Carolina Tar Heels host the Duke Blue Devils, hoping to avenge a heartbreaking 90-92 overtime loss on February 18.
The battle between the two schools, separated by just an eight mile stretch of highway, is routinely called one of the best rivalries in all of sports. I bleed Pantone 278 (the official Carolina Blue), and victories over Duke warrant more than just your average celebration.
However, rivalries often extend away from the hardwood (or gridiron, diamond, etc.) to businesses in every industry worldwide. Although they do not play out on live television for millions of screaming fans, for those invested, the wins and losses can be just as agonizing.
If used wisely, competition in conference rooms can spur innovation and success when it comes to developing and executing a winning integrated marketing communications strategy. Below are three basic, and critical, methods companies use to leverage business rivalries to their advantage.
Monitor your rival's activity
This falls in line with the old adage, keep your friends close, but your enemies closer. Where is your competition receiving media coverage? What type of language are they using in their marketing materials? What is the focus of their most recent advertising campaign? In order to beat your competition, you must build a proper scouting report. Be sure to scour the company's online newsroom and use Google alerts to keep up-to-date with their latest movement.
Message around your rival
As you keep tabs on your competition, you need to differentiate yourself in the marketplace. Naturally, your rival is going to have a similar product or service offering, so the victor will be the company that reaches and engages the target audience most effectively. Does your product or service better meet a particular need or desired outcome? Do you offer a more cost-friendly option? What makes your company different in head-to-head comparisons? Attack the weaknesses of your rival by crafting messages that demonstrate your strengths and superiority.
Set goals and measure against your rival
Once you know your competition's game plan and have implemented a campaign to demonstrate your value, it is crucial for the company to measure the results. There are a variety of key performance indicators to track your success. Have you achieved a greater share of voice in the marketplace? Has a campaign had an effect on consumer or stakeholder sentiment? Most importantly, have you captured a larger portion of sales quarter-over-quarter or year-over-year? In any rivalry, you have to keep score. That is, as they say, why they play the game.
For a practice exercise, check out Fortune's list of the 50 greatest business rivalries of all time, and ask yourself, how did each company beat their competition?
To learn more about how HCK2 is helping our clients gain a competitive advantage, take a look at some of our work. If you company is reading to score a win over your rival, email us at info@hck2.com.