BMW Dallas Marathon
Community Influencer Campaign
For the second consecutive year, the BMW Dallas Marathon team reached out to HCK2 for help maximizing registrations for the 2019 BMW Dallas Marathon, which raises funds for the Texas Scottish Rite Hospital for Children.
Established in 1971, the Dallas Marathon event is Dallas' largest and Texas' longest-running marathon. In addition to the signature full- and half-marathons, the weekend event options include a 50K Ultra Marathon, a 2-person half marathon relay, a 4-person marathon relay, 10K, 5K and 2-mile walks, a variety of kids races and more.
The Challenge
Marathons have been experiencing a downward trend in participant registrations globally. According to research conducted by RunRepeat, marathon participation has declined by 13% since 2016, when it peaked with 9.1 million runners crossing the finish line. The reasons for the decline are not clear-cut, but RunRepeat's data suggests that, along with an aging demographic, the "participation motivations" for runners are changing.*
* Andersen, Jens Jakob. "The State of Running 2019" RunRepeat.com, July 16, 2019. Accessed online: https://runrepeat.com/state-of-running
The Solution
Dallas Marathon partnered with HCK2 to execute marketing campaigns that would leverage "influencers" to lure past runners back in, as well as create the next generation of marathoners by reaching out to younger demographics using the platforms they are attracted to most.
The influencer campaign targeted a variety of communities, as well as local influencers with a high reach and following.
By partnering with Vanessa in Dallas, the Dallas Marathon was able to increase its brand awareness within the Hispanic community, which is an important demographic as this population is expected to become the largest population group in Texas as soon as 2022.
Dallas Fitness Ambassadors provided access to six influencers who are prominent in the local running community. These influencers were strategically selected to be a mix of gender and age to bring the Marathon's message to a wide range of audiences.
One Small Blonde (Brooke Burnett), a local influencer with a 113K+ following, posts a mix of fashion, food and fitness content, which allowed the Dallas Marathon to integrate into Brooke's existing content and develop interactions with her audience.
Former Dallas Cowboys Cheerleader, Kelsey Lowrance, also partnered with the Dallas Marathon, generously providing free promotions for race weekend.
HCK2 created campaign strategies, defined target segments, aligned motivations to them, provided weekly results reporting and optimized campaigns based on those weekly results. Marketing channels used included paid digital ads and social media platforms.
Dallas Influencer – Vanessa in Dallas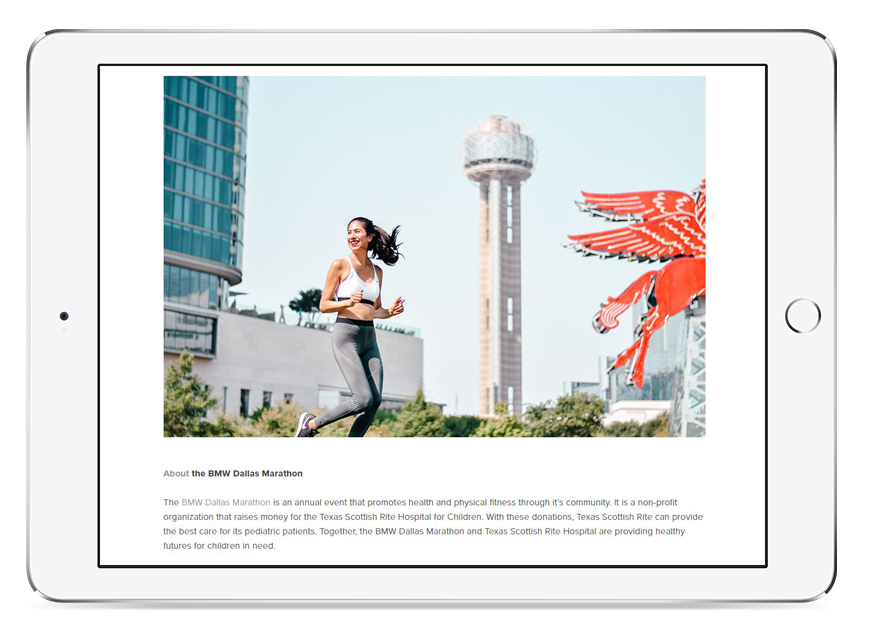 Former Dallas Cowboys Cheerleader – Kelsey Lowrance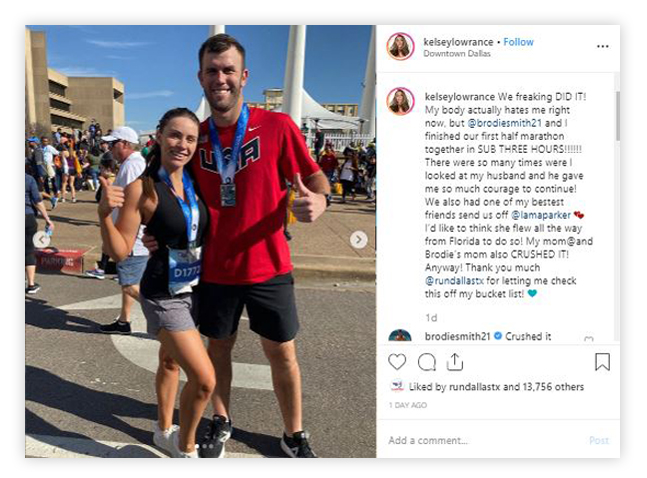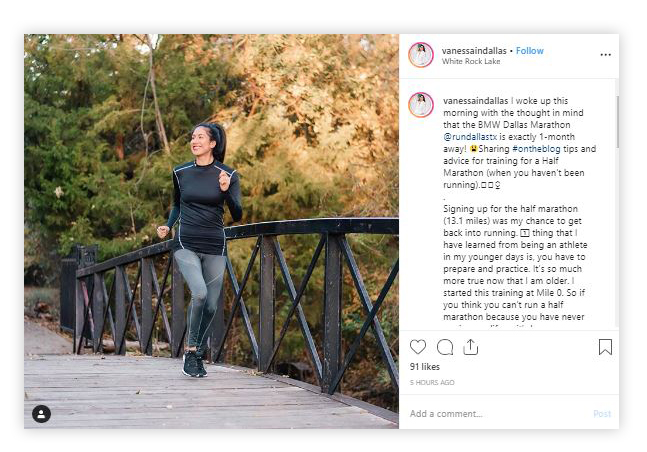 Lifestyle Influencer – One Small Blonde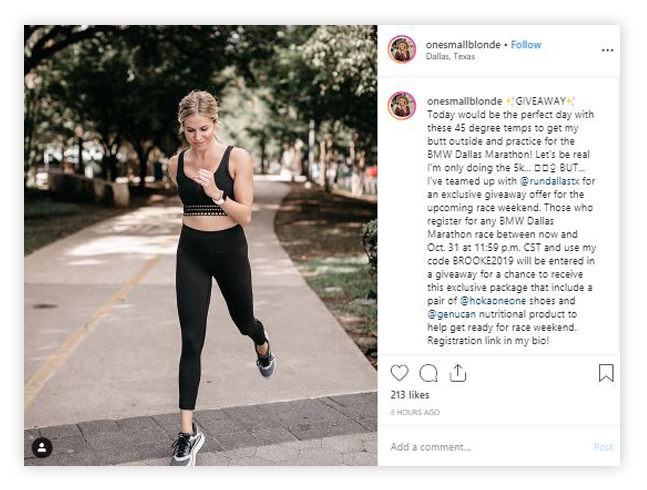 Dallas Fitness Influencers – Dallas Fitness Ambassadors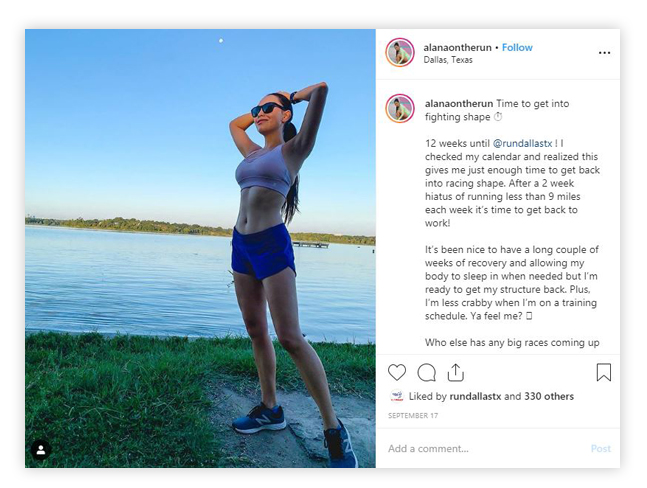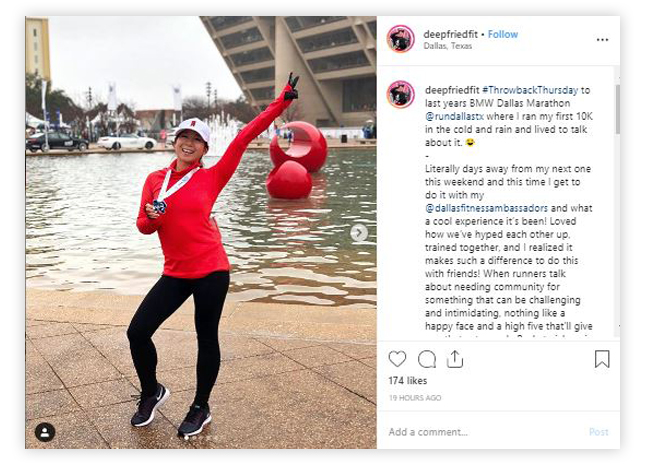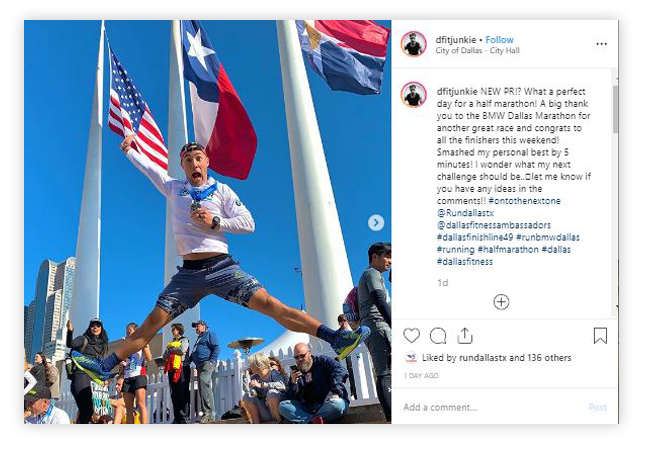 Results
HCK2 saw a huge success with the Dallas Marathon's influencer program. With a limited budget, HCK2 was able to work individually with each influencer to maximize the amount of content they were able to produce within the contracted time frame. In just three months, these influencers published a combined total of 430+ pieces of content, with 175 being added value and posted at no extra charge for the Dallas Marathon. This content received 272,886 impressions, a reach of 148,538 individuals, 26,915 likes and 1,051 comments.