NTT Data
Internal Communications Strategy & Creative Development
NTT DATA Global, a Japanese multinational system integration company headquartered in Tokyo, Japan, created the NTT DATA In The News Global Scan to address company's need to share announcements and key media placements with offices around the globe. In The News underwent a pilot phase, during which the newsletter was sent to key employees and executives in an effort to solidify distribution priorities and expectations.
The program was officially launched to over 110,000 employees around the globe. Two times per week, HCK2 scans more than 60 newsrooms and between 500 and 1,000 media articles, narrows all results down to the top eight articles, and has them translated into U.S. English for the newsletter. Articles include a variety of information, including company partnerships, acquisitions, executive interviews, byline placements and events. The final newsletter is then approved by the NTT DATA team, before being distributed to all employees.
The Challenge
At the beginning of the project, the client wanted to address the following needs:
Distribute a global newsletter to all employees sharing important, relevant company news and announcements
Enable employees to be more informed and aware of the entire company's capabilities, research and events
Overcome the language barrier or concerns with media publishing in different languages
Prioritizing all news and announcements to determine the highest quality media coverage
Distributing the newsletter on a common platform that each recipient could access equally
Including all relevant articles without violating global copyright laws
The Solution
Pilot phase and corresponding surveys among executives and key marketing team members were conducted to determine the most effective manner in which to distribute the newsletter
The template was designed in a simple, easy-to-read manner that was organized in order of the priorities expressed by the NTT DATA Global team (company announcements, analyst reports, media). The template included:

English translation, but native language titles
Adjustments to account for EU copyright laws, enabling all EU articles to be included as appropriate
Relevant photographs and hyperlinks to website
Access to share the final article

The template was originally designed using the distribution site MailChimp.

Benefits: Analytics, including click rate, open rate and share rate
Challenge: Maintaining the distribution list and preventing employees from "unsubscribing" from the newsletter, as well as preventing MailChimp from bouncing email addresses
Solution: The template was shifted into Outlook, made possible through a flexible template created for easy transfer between distribution systems
In the News Email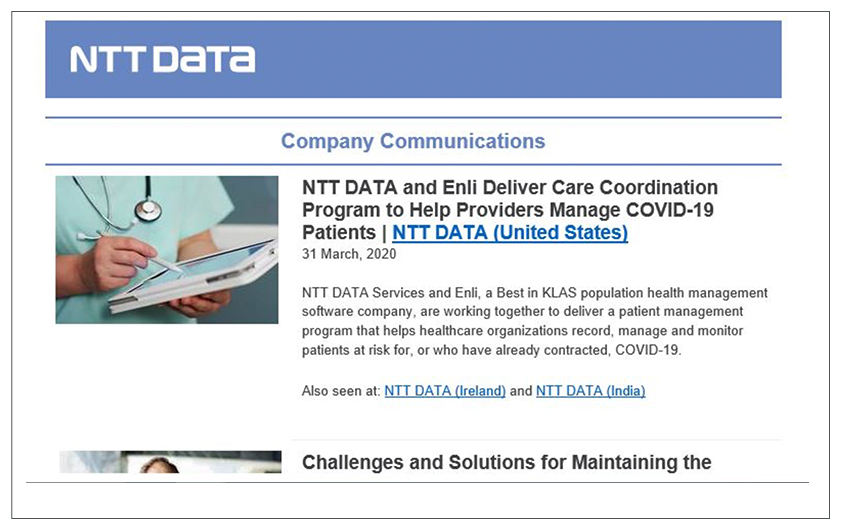 Results
Due to the shift in distribution system, quantitative data was difficult to gather. However, the NTT DATA team measured success through the form of surveys: one mid-year survey of all recipients and one end-of-year survey of key executives and marketing team members.
Mid-Year Survey
Total respondents: 3,165
Total rating:

Overall: 6.97/10
6.94/10
6.97/10

Approximately 60% of recipients read the headlines and summaries
Importance:

74% of recipients interested in company announcements
51% of recipients were interested in analyst and advisor reports
18% of recipients ranked media as the most important section
This established the priority system used to generate In The News

Length

85% of respondents wanted between 2-10 entries, which is how the team developed the cap of eight articles per distribution

The mid-year launch survey also served to disprove previous assumptions made by the team, enabling them to adjust for higher satisfaction among the recipients. These adjustments included:

Language inclusions
Adjusting entry number
Adjusting article priority (company announcement, analyst reports, media coverage)
End of Year Survey
This information was primarily qualitative, which includes quotes from NTT DATA executives. These quotes include:
I read the headline and summary of each story. It doesn't take long because they are nicely organized. This is one of the best newsletters for market-based information and collects stories in foreign languages with English translations. Without this newsletter I would not know much about what's going on outside the U.S. I can set up a Google alert for "NTT DATA" which would act as a news aggregator, but I rely on this newsletter instead because it's so well done."
---
I skim though the newsletter to see if any news has been released by other OpCos in my service portfolio where I am focused. Just before K18 I got to know that NTT DATA Italy team won the ServiceNow award for an innovative solution. We showcased this achievement in our booth – to demonstrate our innovative capability.
---
NTT DATA In The News is helpful to view ourselves as part of a global team and to experience the global reach of NTT DATA. To read what NTT DATA is doing around the world and in Germany, this makes us proud. I am sure that employees find specific input and inspiration from articles that address their subject.
---
Reading this newsletter regularly increases the level of identification and affiliation of our colleagues with NTT DATA; they can feel that, despite the fact that NTT DATA is a very big company, they find easily out what other colleagues are doing on other continents and what new products/services NTT DATA offers. It increases the feeling to be part of a big company.