Belfour Spirits
The Spirit of Champions – Brand Development & Product Launch
Led by Hockey Hall of Famer Ed Belfour, Belfour Spirits is an ultra-premium whiskey producer known for its products' unique character and stunning packaging. In 2014, the Belfour family began its journey of handcrafting exceptionally smooth and well-balanced whiskey made from the finest ingredients. Today, the company has distilled, and is aging, more than 1,700 barrels of whiskey. Belfour Spirits launched in October 2019 with distribution in Illinois and Texas, with additional markets anticipated.
The Challenge
A new brand in a saturated liquor market, Belfour Spirits reached out to HCK2 for help in capturing the essence of what they wanted the brand to embody and how to achieve the vision of the Belfour family. HCK2's creative team developed a full range of brand elements from start to finish, including, but not limited to, a brand logo, color palette, bottle design and packaging, point of sale displays and a consistent brand theme.
The HCK2 web team was tasked with creating a fully integrated website that would engage consumers, distributors and the media while meeting all regulatory requirements and maintaining the brand theme. In addition, the site had to be user friendly and easily accessible on the back-end in order to make rapid updates as new retail locations were added and news coverage expanded.
Because Belfour was a new brand, the HCK2 PR team needed to create an immediate, strategic national communications approach for the media and consumers that would trigger brand awareness, product sales and retailer interest.
The Solution
Creative
Belfour was an unfamiliar name to most consumers outside the hockey-aficionado demographic. Even with great recognition, Belfour was facing multiple competitors in the ultra-premium whiskey space. HCK2 creative crafted a full brand persona and theme—one that created a unique and engaging identity for Belfour in consumer retail. The creative team listened to Belfour's needs, vision and inspiration to create the following assets:
Brand logo
Full corporate ID package, including letterhead, envelope and business cards
Bottle design, gold-and-black color palette and packaging that embodied the sophistication of the 1920s "Gatsby" era
Multiple sales cards to share with distributors and potential sales team members
Multiple versions of point-of-sale displays for liquor stores and promotional events
Custom tablecloths, posters and signage for trade shows, events and expos
Custom menus for the VIP Launch that were displayed throughout the event
Brand Guide Excerpts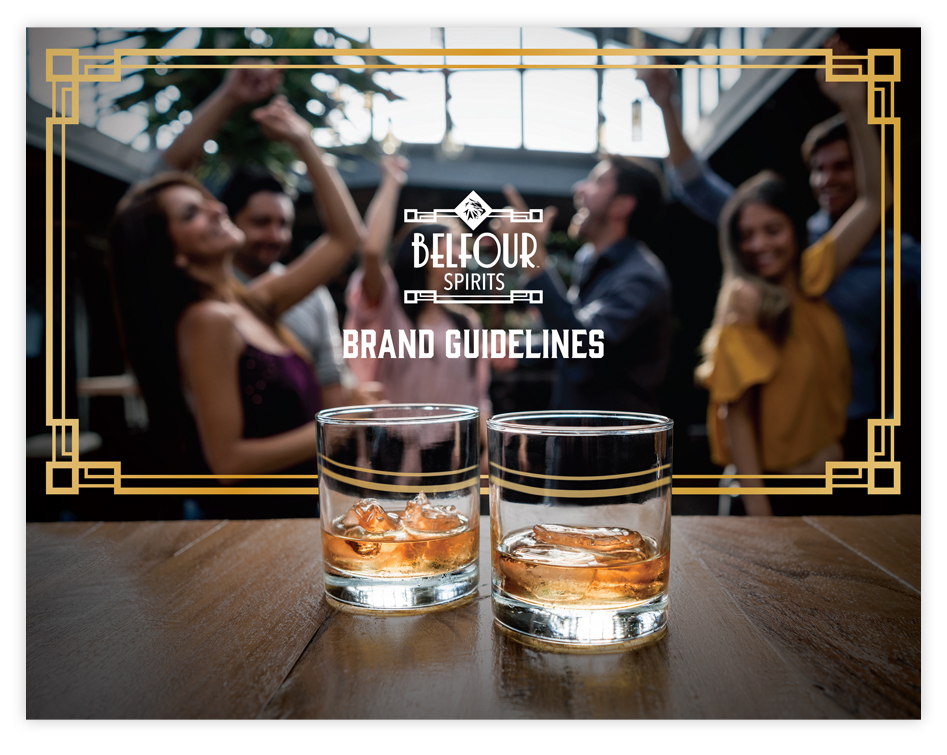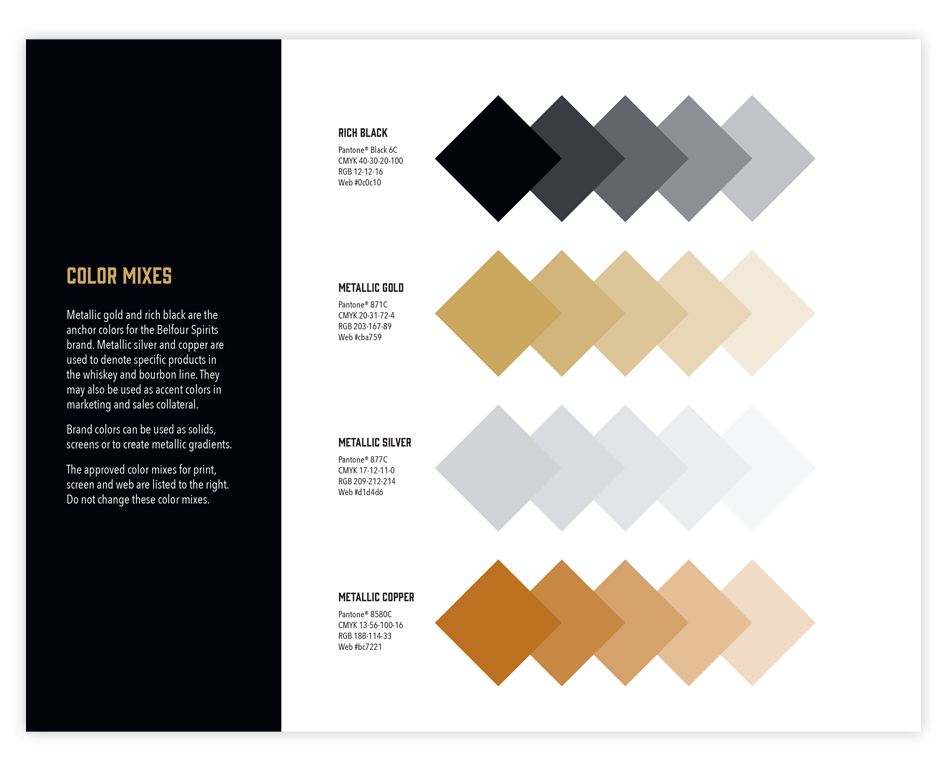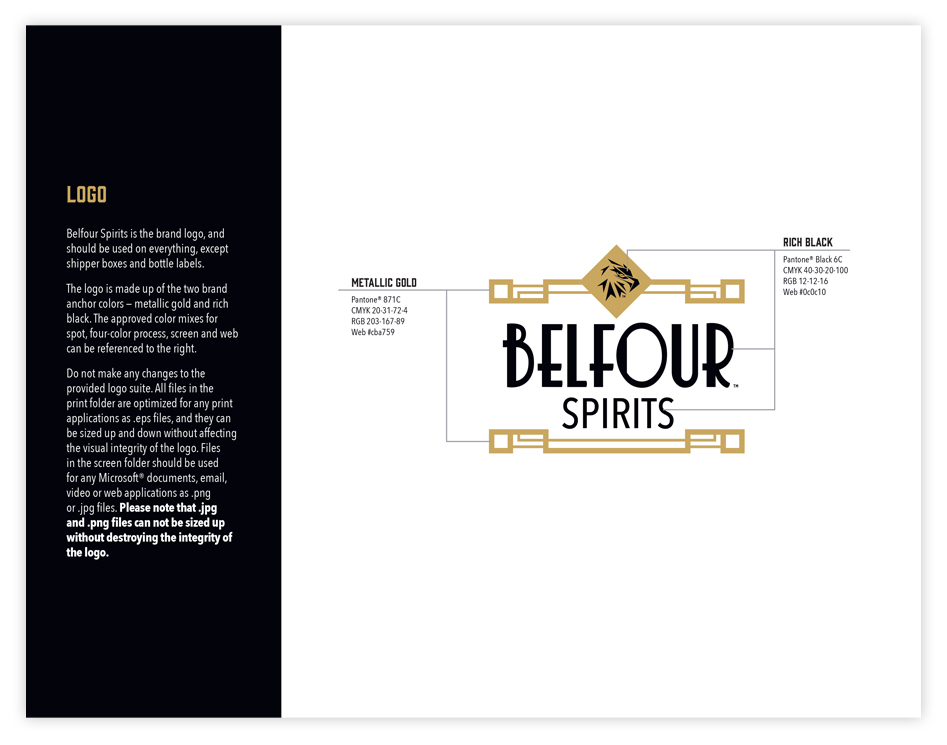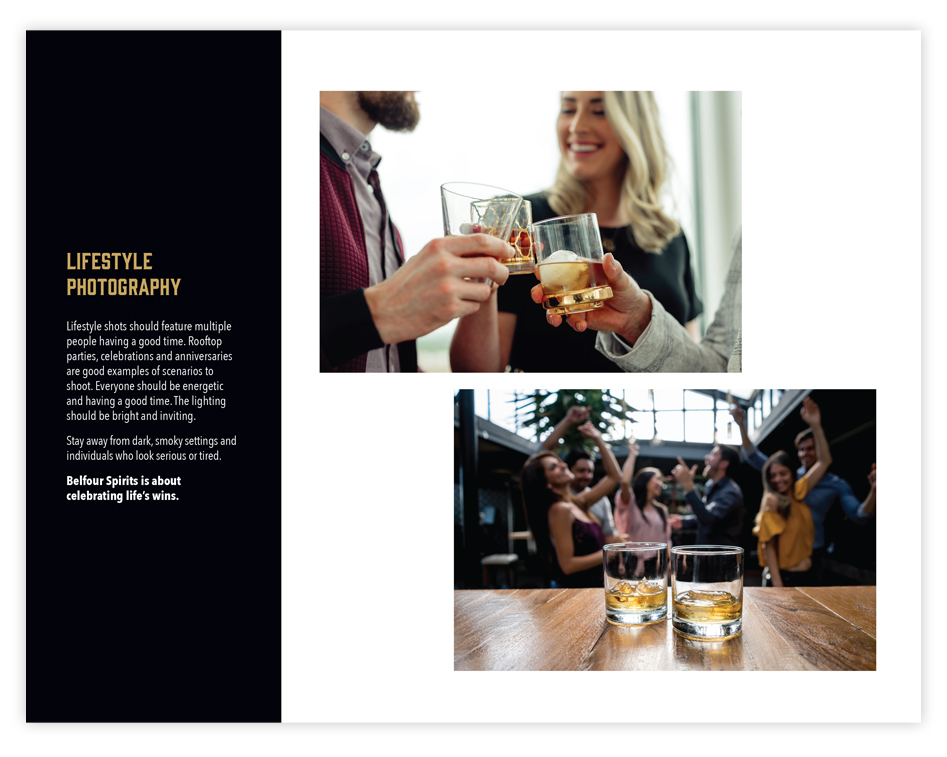 Product Sheets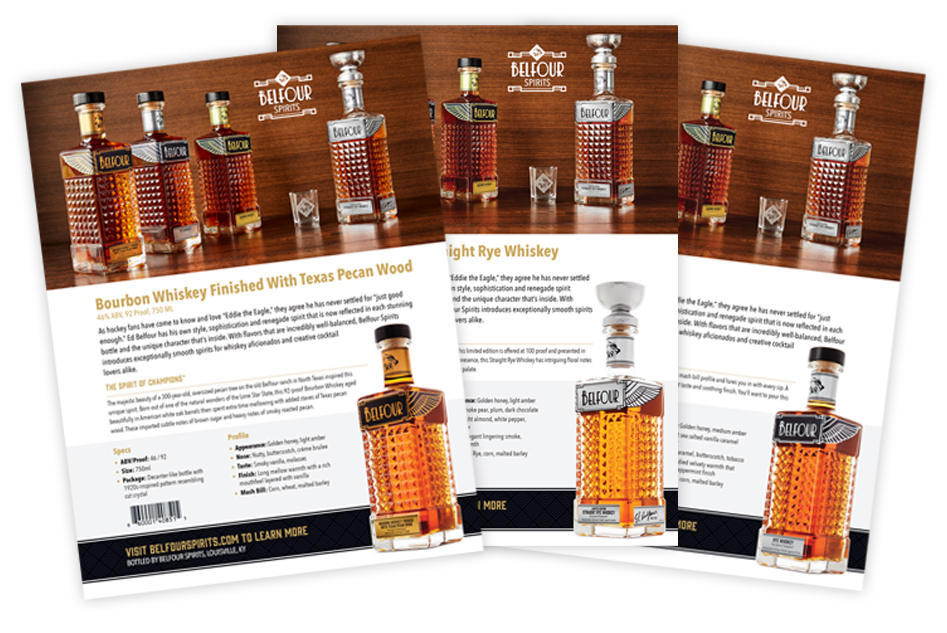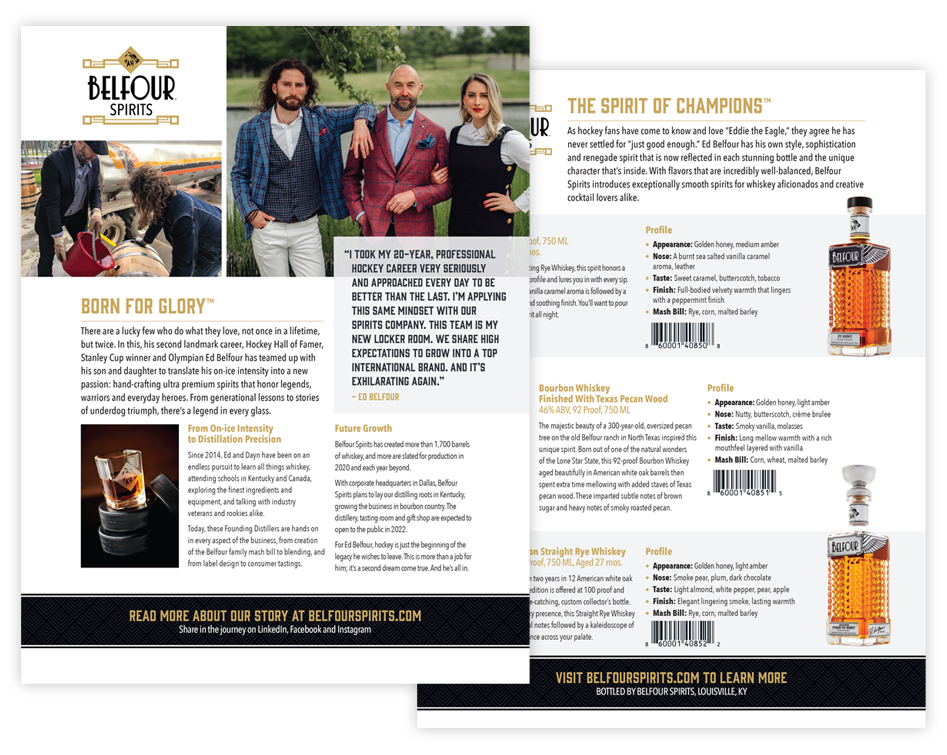 Product Photography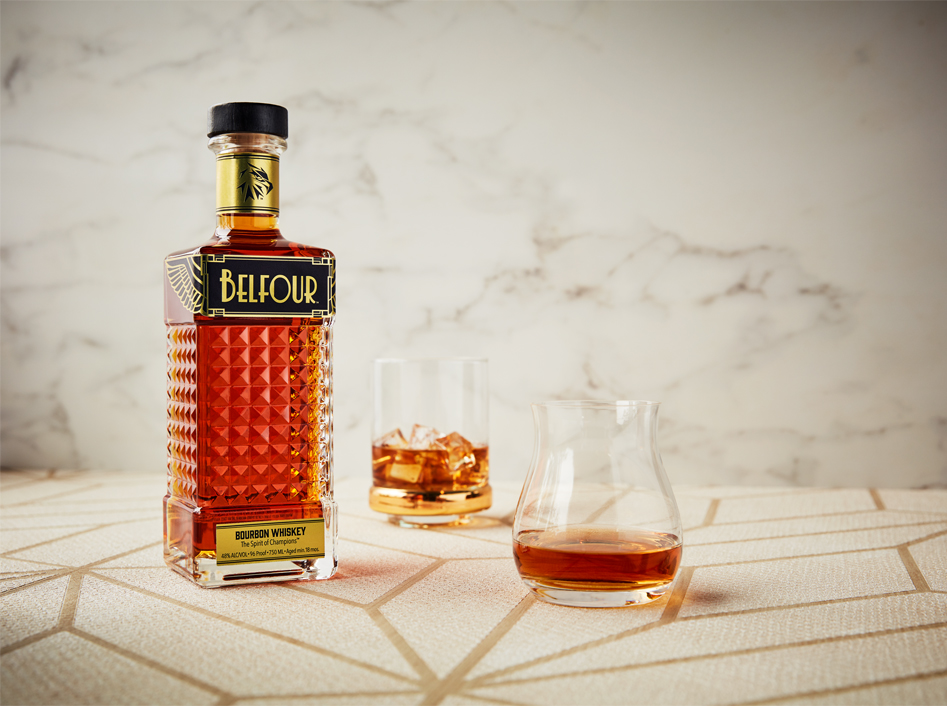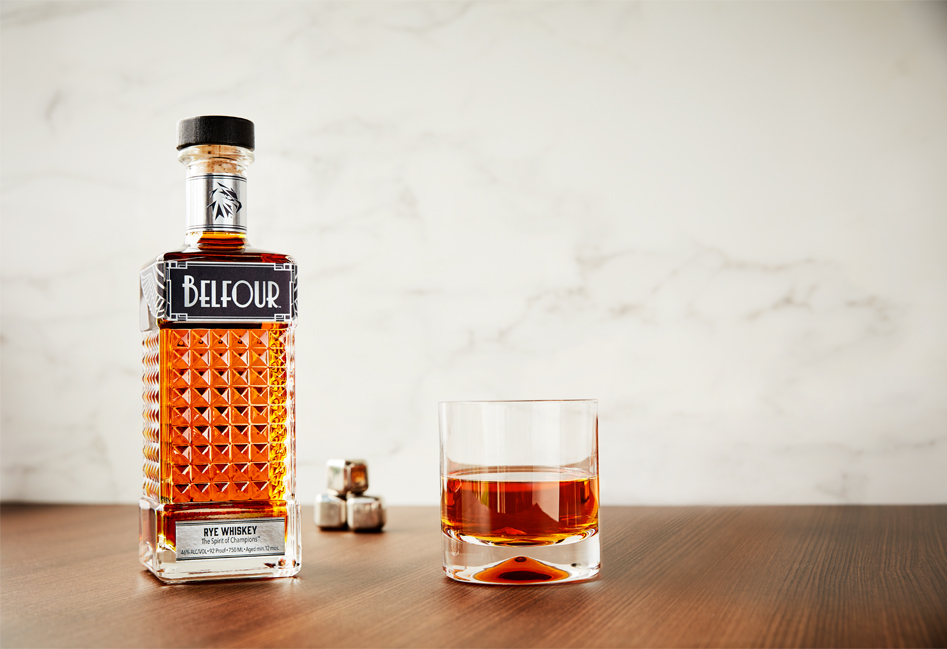 Limited Edition Rye Whiskey Packaging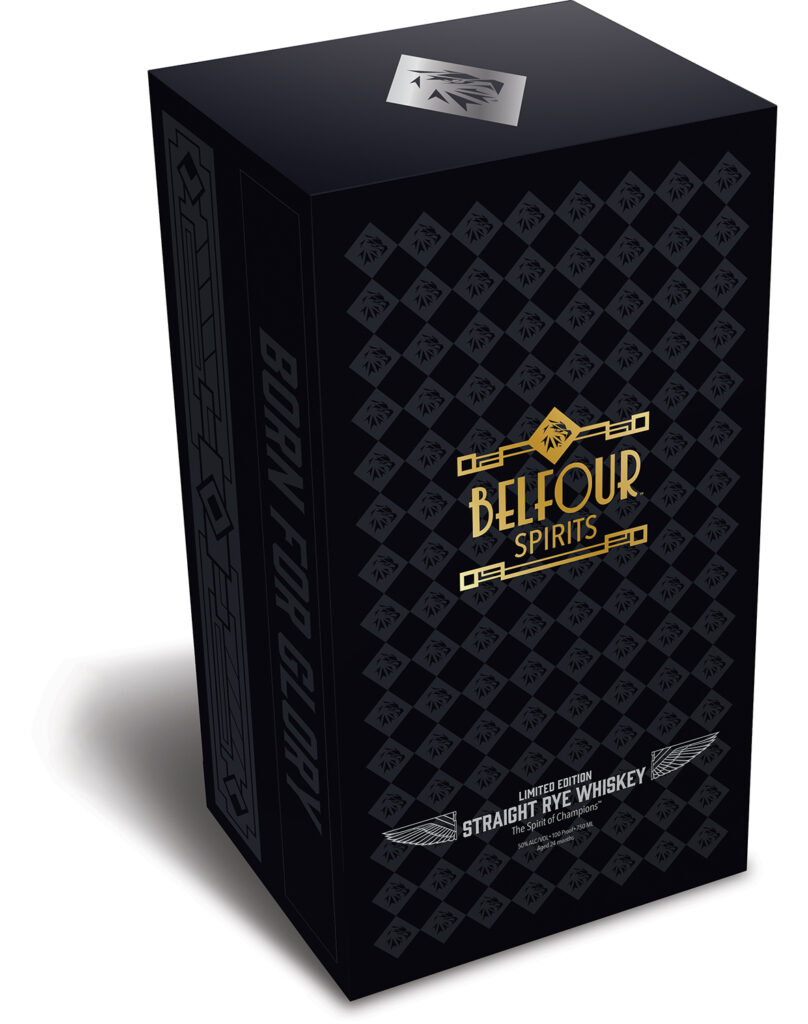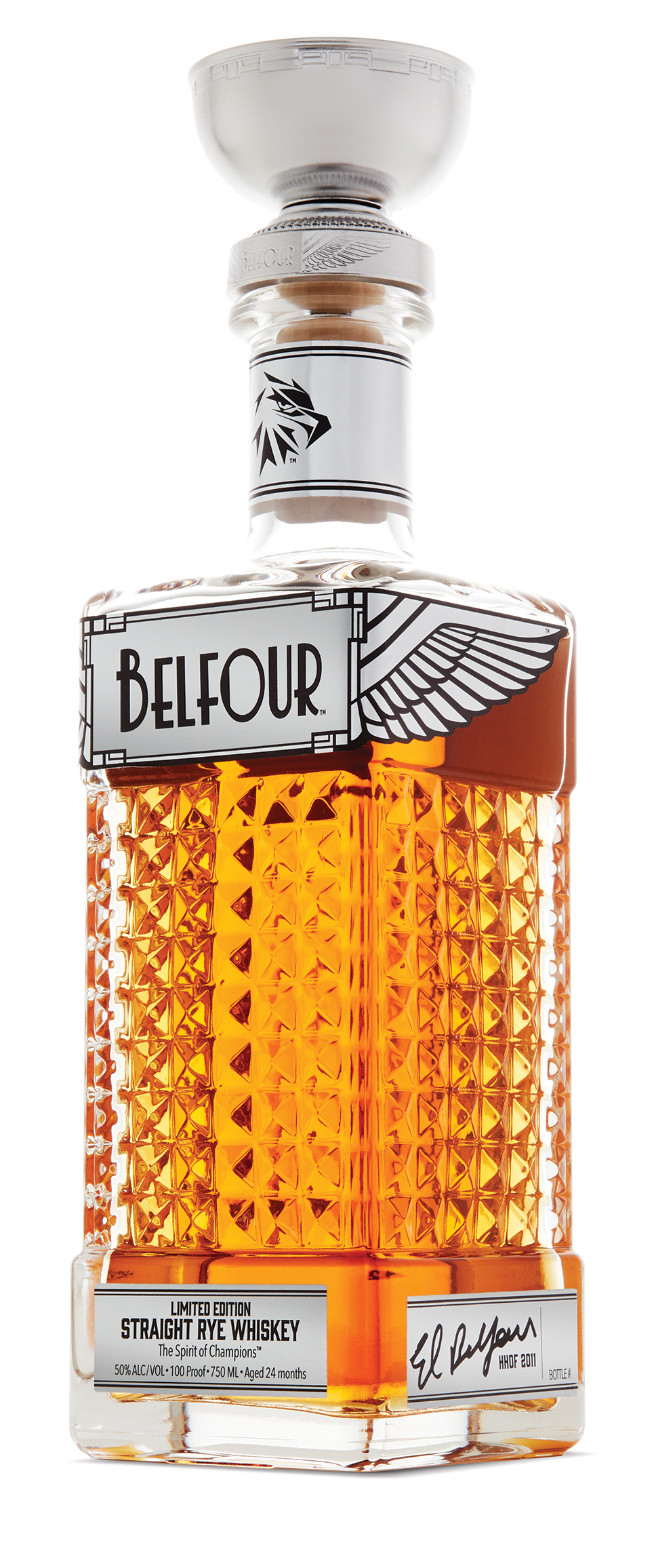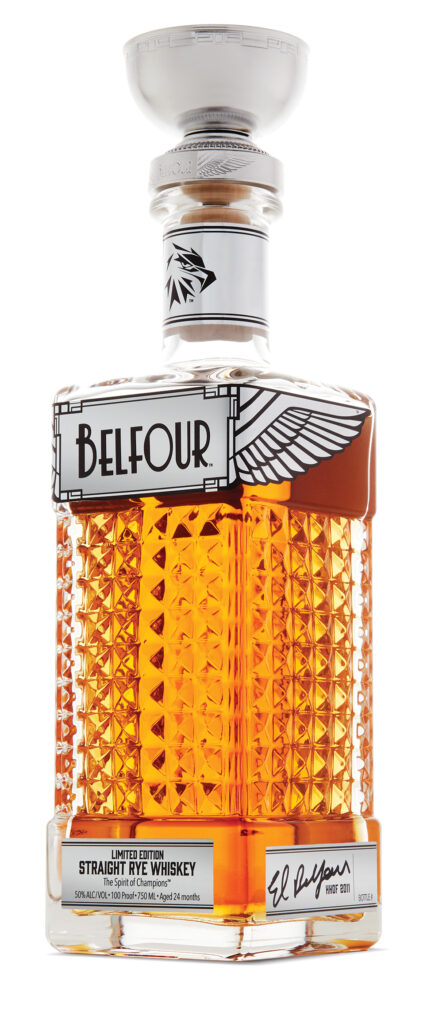 Tradeshow Backdrop and Pop-up Banners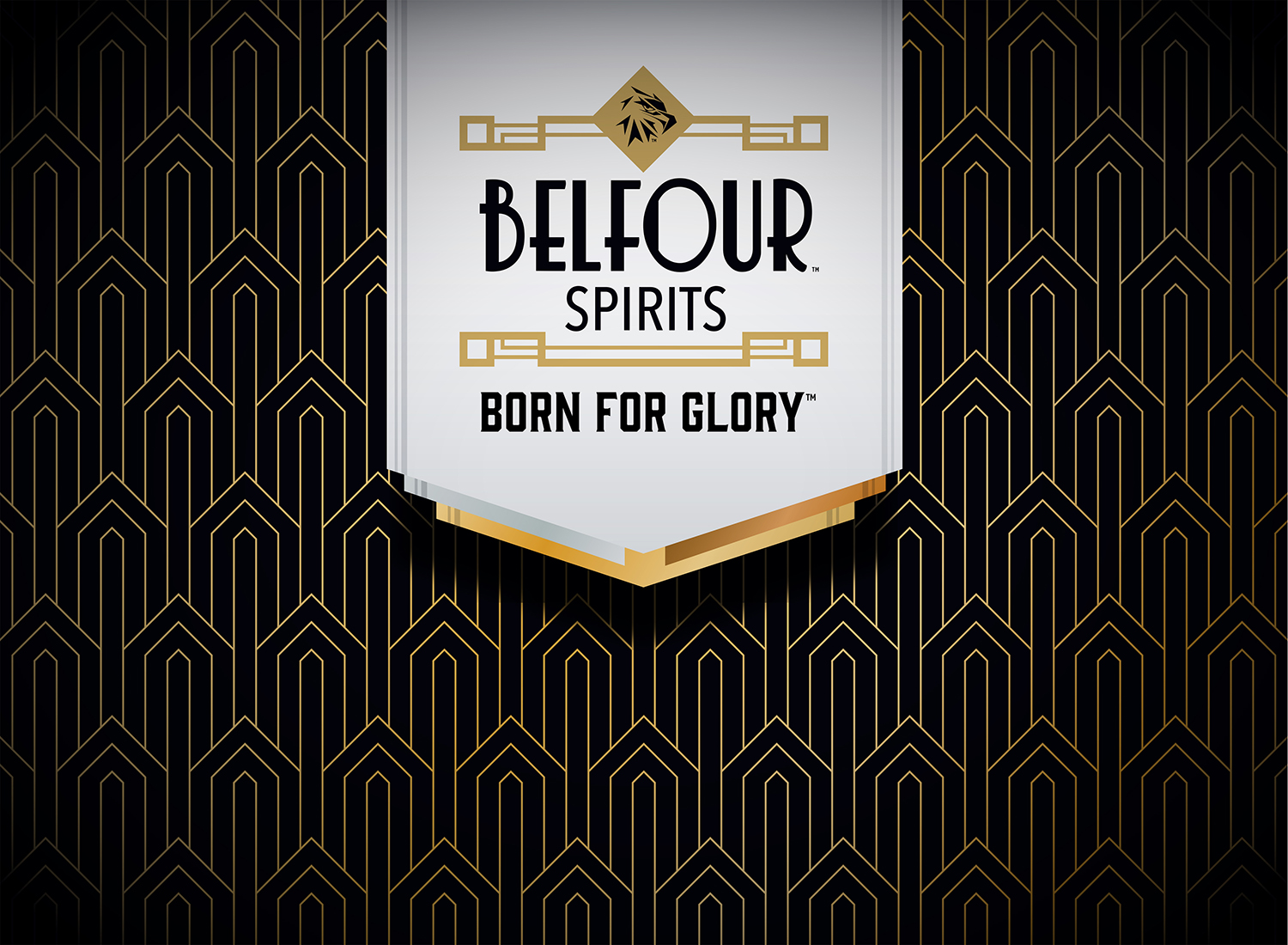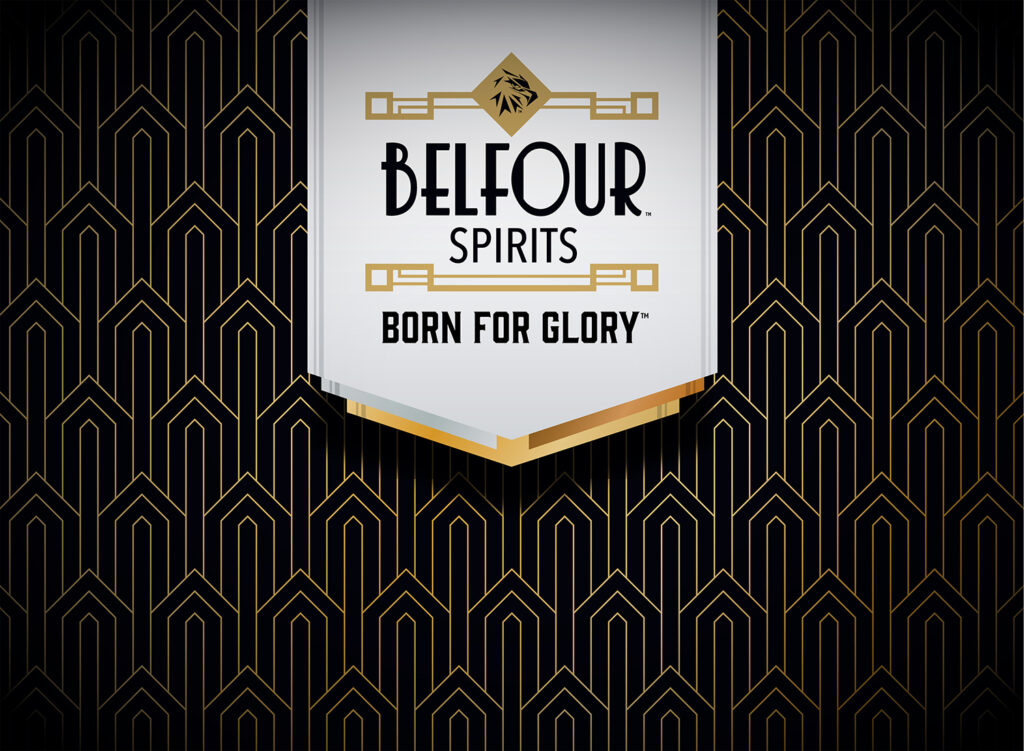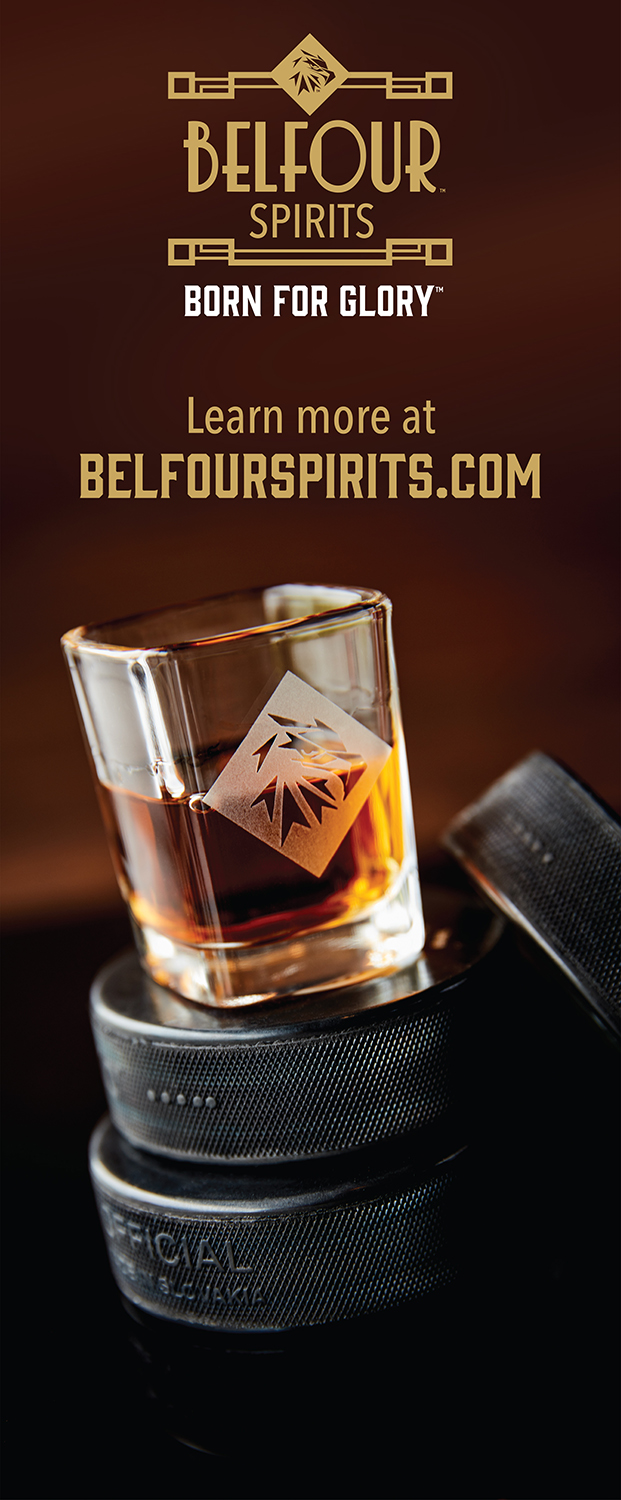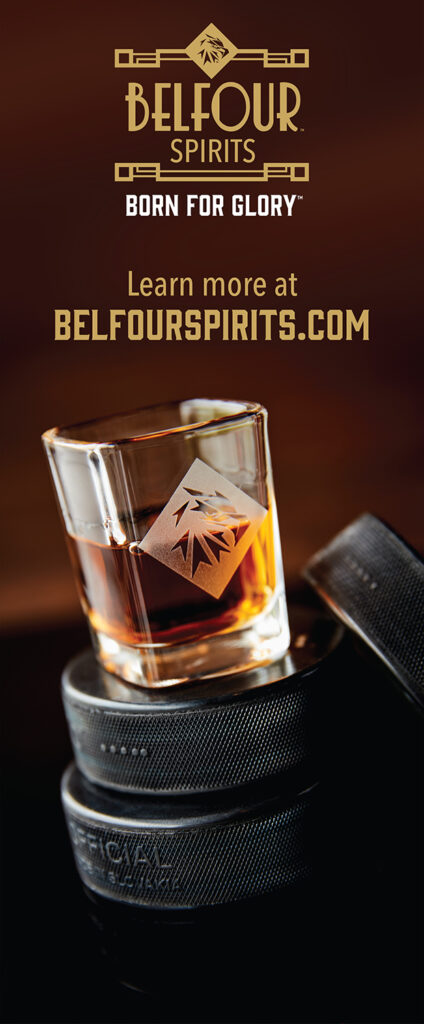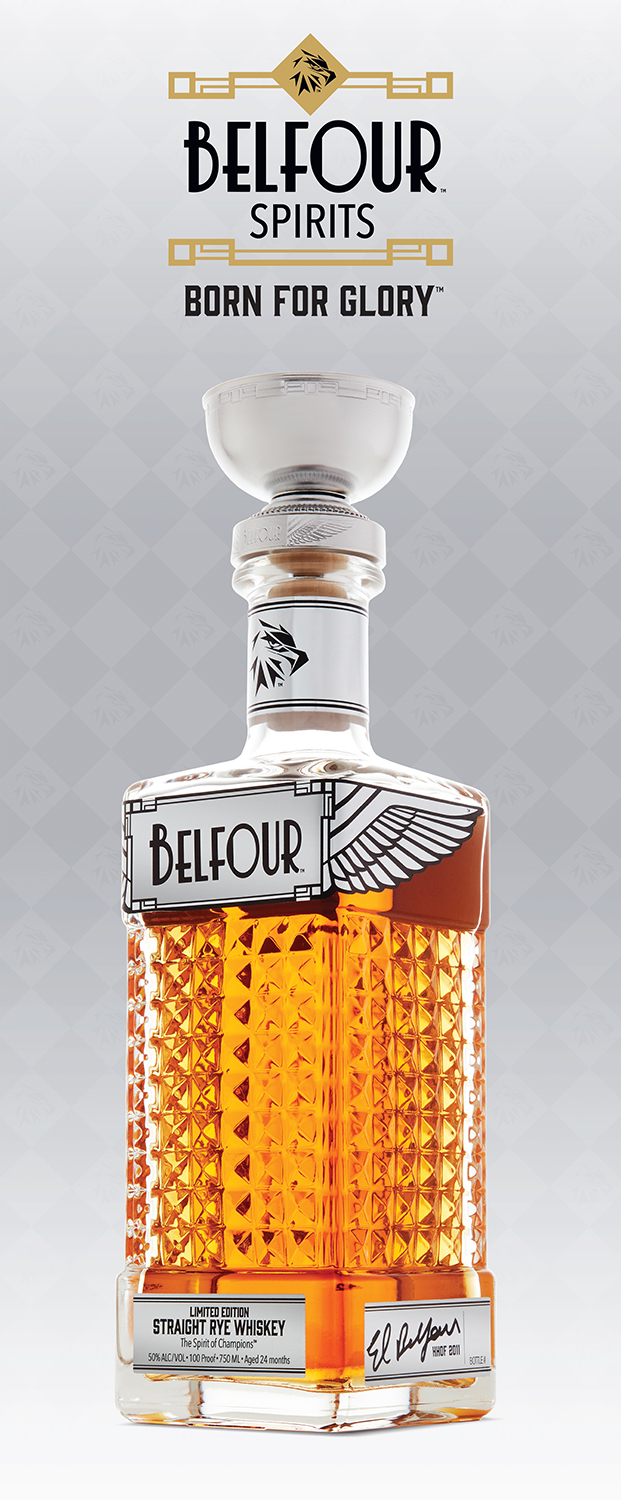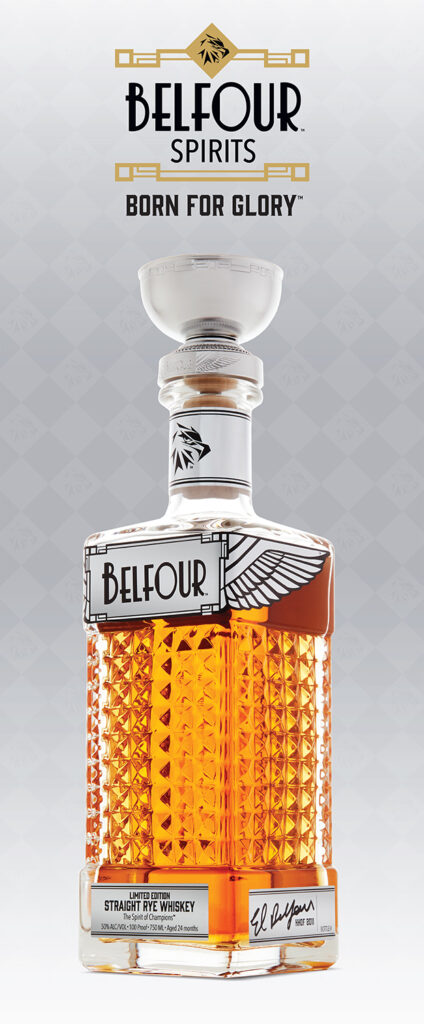 Public Relations
HCK2 drafted a press release highlighting each of the three Belfour Spirits whiskey products and the family's five-year journey of developing the company and the brand. The team positioned the story as "Ed's Second Act," tying Ed Belfour's hockey career to his entrepreneurial energy. The release was distributed to outlets in Dallas, Chicago and other national markets within hockey, beverage, spirits and entrepreneur spaces. In addition to national media outreach, HCK2 assisted the Belfour team in the planning and logistics of their VIP Launch event so it would unfold seamlessly.
Media Placements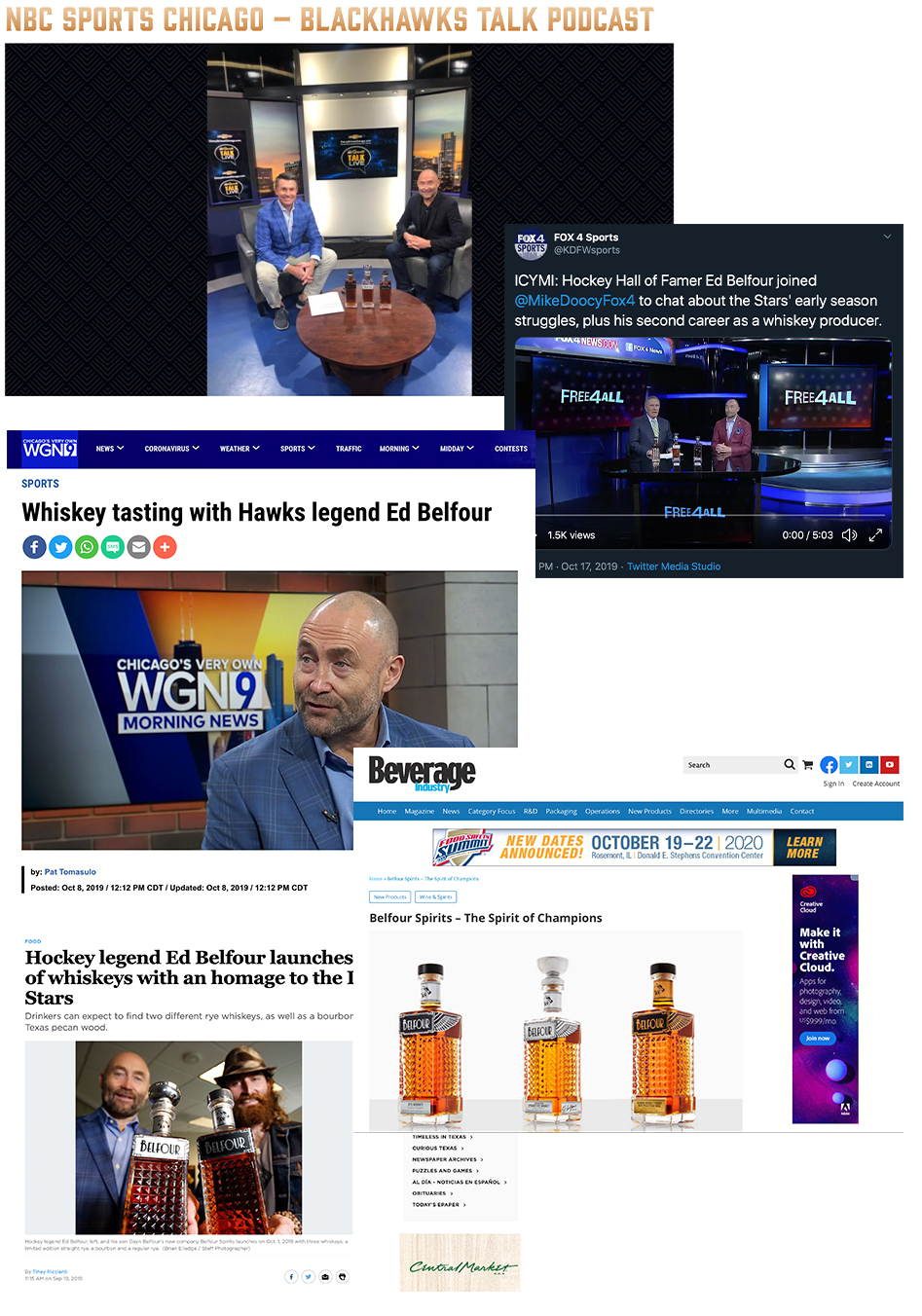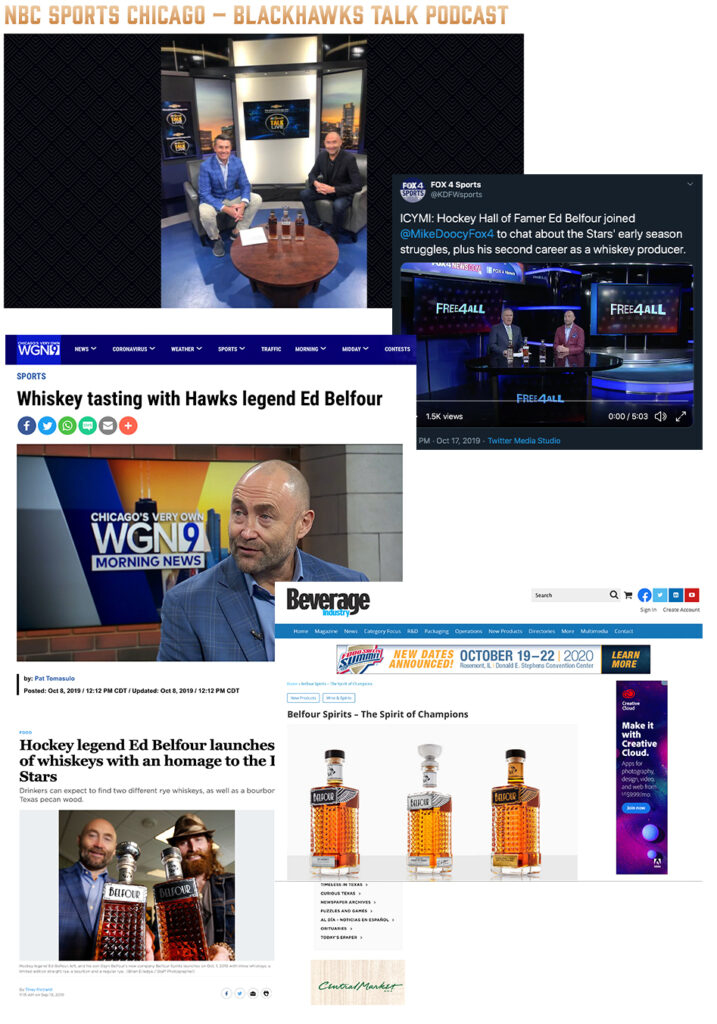 Web
The web team fulfilled the overall need by showcasing Belfour's products, sale locations and press in a branded way that met web standards, was responsive, and had an easy-to-use content management system (CMS) for in-house updates. The custom design leveraged the company's logo and sophisticated color palette in an appealing manner within an accessible and intuitive navigation.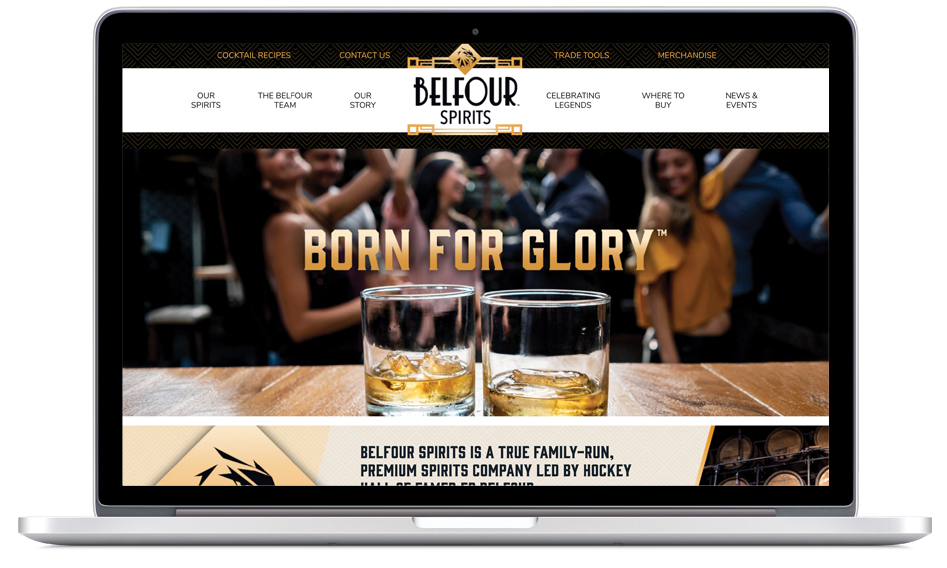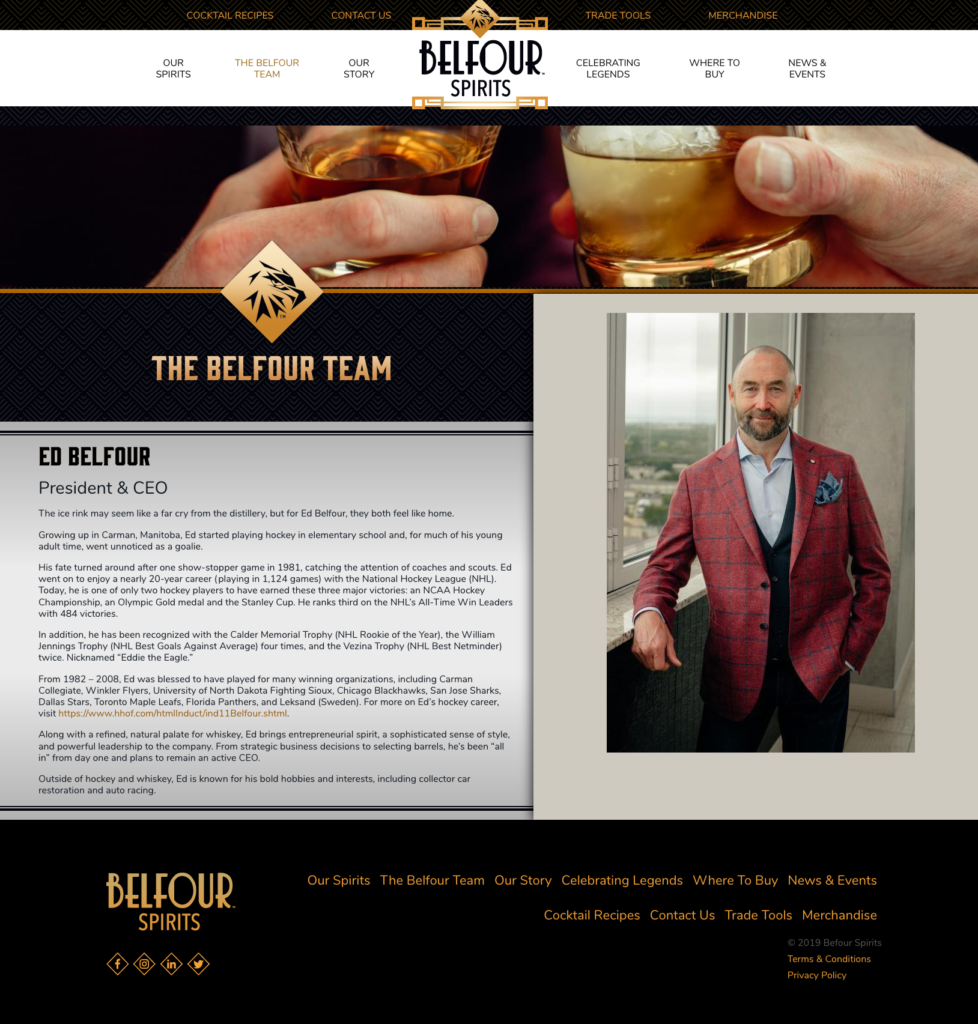 The Results
The press release resulted in more than 15 placements from top local, sports and industry trade outlets, including The Dallas Morning News, WGN-TV in Chicago, FOX 4 Sports and Beverage Industry magazine. The PR team's success in generating such high brand awareness also earned HCK2 a consumer award for circulation in top-tier publications. All of that amounted to a higher brand recognition than projected, which resulted in the Belfour brand being added to the inventory of 130+ stores, rather than the original proposed 30 locations.
Due to the extraordinary interest generated for the brand, Belfour Spirits requested HCK2's support in staffing, managing set-up and clean-up, coordinating media interviews, guest check-in and more at their VIP Launch event. The launch event garnered more than 300+ VIP attendees, including targeted media reps and former professional hockey players, as well as Belfour family and friends.
The creative assets embodied exactly what the client envisioned: a sophisticated brand that would stand out in the in highly competitive space of ultra-premium spirits. The unique bottle design and packaging was awarded a gold medal in the 2020 International Review of Spirits Packaging Competition hosted by Beverage Tasting Institute., the website has been easily managed despite the rapid and ongoing additions of press coverage and sale locations, and the sales and marketing assets created by HCK2 continue to fuel a prominent presence for Belfour within the liquor industry.