Emagispace
Think Outside the Pod – Online Brand Awareness Campaign
Emagispace is an interior construction and design innovator that has developed a sustainable building block technology that has redefined what's possible in the build-out of office interiors – especially "shared workspace" environments that are becoming more and more popular in corporate architecture and space planning. The EmagiBlock® platform was conceptualized around the idea that building elegant, versatile interior space doesn't have to come with a hefty price tag, long lead times, difficult storage or materials that end up in a landfill.
The Challenge
A relative newcomer to the construction and space-planning industries, Emagispace needed to make its presence known; boost awareness among architects, space planners and building owners of its product line value; and drive sales.
The Solution
One facet of HCK2's marketing solution was a series of monthly emails embedded with a link to a landing page containing detailed information about the Emagispace product featured in the email and a Captcha box for gathering prospective-customer information. Each email featured a different product, use case or value proposition.
Email Campaign and Landing Page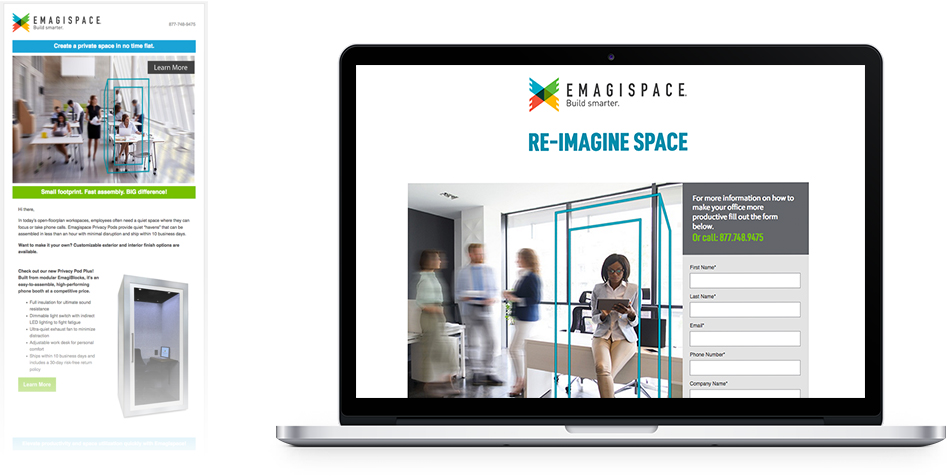 Social Media and Digital Advertising Campaigns

Social Media Video Vignette Series
The Results
According to Smart Insights, the average Open Rate for most marketing emails is 21.46%. The average Click-through Rate to a connected landing page or website is 3.61%.* Research by GetResponse.com has generated similar results, with "Newsletter" emails generating an Open Rate of 22.68% and a Click-Through Rate of 3.38%.
The first two scheduled emails and landing pages created by HCK2 for Emagispace generated results that significantly outperformed those industry norms.
In February 2018, 1,624 emails were delivered, and 34% of those were opened. Of those opened, time tracking indicates that 55.5% were explicitly read, 36.2% were skimmed in a quick review, and 10% of the recipients clicked through to the associated product landing page.
Similarly, in March 2018, of the 1,778 emails delivered, 33% were opened, with 70.1% apparently read and 24% skimmed. The click-through rate to the landing page jumped a bit higher to 10.9%.
Smart Insight
Averages
GetResults.com
Averages
Feb. 2018
Email
Mar. 2018
Email
Open Rate
21.46%
22.68%
34%
33%
Click-Through Rate
3.61%
3.38%
10%
10.9%
Over the course of the email campaign, which ran from February 2018 to October 2018, Emagispace captured 885 new leads.
Averages based on a calculation of Smart Insight statistics for the Internet Marketing and Technology/High Tech industries in particular, as well as the average for all industries tracked.
Statistics Sources:
https://www.smartinsights.com/email-marketing/email-communications-strategy/statistics-sources-for-email-marketing/#q1
https://eu.getresponse.com/email-marketing/eu-resources/reports/email-marketing-benchmarks.html#tactics