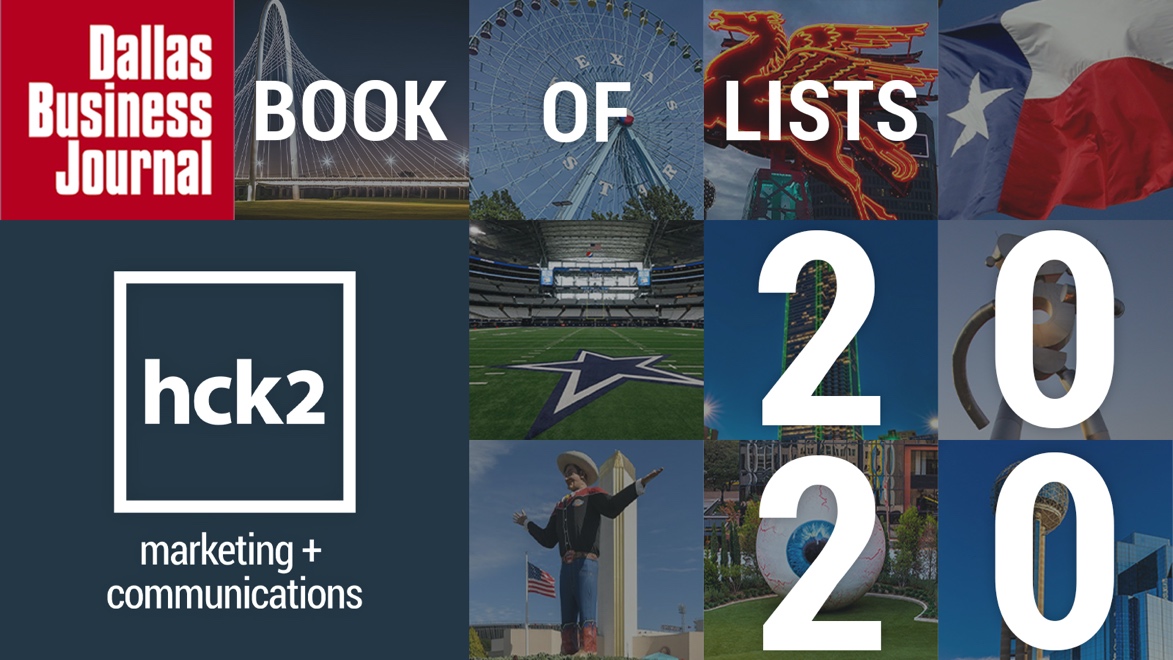 HCK2 Named Among Top 5 Agencies by Dallas Business Journal
For the Eleventh Consecutive Year, Dallas-Based Marketing Communications Firm Ranked Among Largest in North Texas
DALLAS, TX – August 31, 2020 – Today HCK2, a Dallas-based marketing communications agency, announced its revenue and size rankings with the release of the Dallas Business Journal's 2020 edition of its Book of Lists. The agency ranked No. 5 among North Texas Public Relations Firms and sixty-sixth for North Texas Women-Owned Businesses in terms of revenue, and seventeenth for North Texas Advertising & Marketing Firms, as ranked by number of employees.
The Dallas Business Journal's Book of Lists features a mix of privately-owned agencies and global marketing and communications firms with offices in North Texas. HCK2 has been ranked a top-10 public relations firm for the past 20 consecutive years, with now 11 of those being recognized among the top five. This is the the second consecutive year the agency ranked among the top 20 Advertising & Marketing Firms. Further, the agency has been recognized by the Dallas Business Journal as one of the top women-owned North Texas businesses for more than a decade.
"HCK2 is proud of its long-standing history in the Dallas Business Journal's prestigious Book of Lists. This ongoing recognition demonstrates our agency's commitment to growth by providing and exceptional experience to our clients and employees," said Heather Capps, president and CEO of HCK2. "Our one-agency model, strategic insights, deep-rooted partnerships and award-winning staff are a powerful combination. We look forward to continuing to grow and serve new and existing clients by producing marketing results that matter."
Since its founding in 1998, HCK2 has been proud to partner with well-known brands such as 7-Eleven, the Fort Worth Symphony Orchestra, Dallas Capital Bank, Munsch Hardt Kopf & Harr and more. HCK2 supports its clients with integrated marketing communications initiatives, including marketing strategy, creative, digital, social media, public relations, web and interactive.
For more information about HCK2, please visit www.hck2.com.
About HCK2
HCK2 is a Dallas-based marketing communications agency known for its excellence in strategy, creative, web, public relations and digital/social media work. During the past two decades, the agency has built a diverse client portfolio across B2B, B2C, non-profit and government sectors, ranging from global billion-dollar businesses to regional operations, most of which have headquarters or a major presence in North Texas. Companies turn to HCK2's team to help address a specific business challenge, opportunity or organizational trigger, such as a product launch, rebrand, merger or acquisition, anniversary or crisis situation. For more information, visit www.hck2.com.