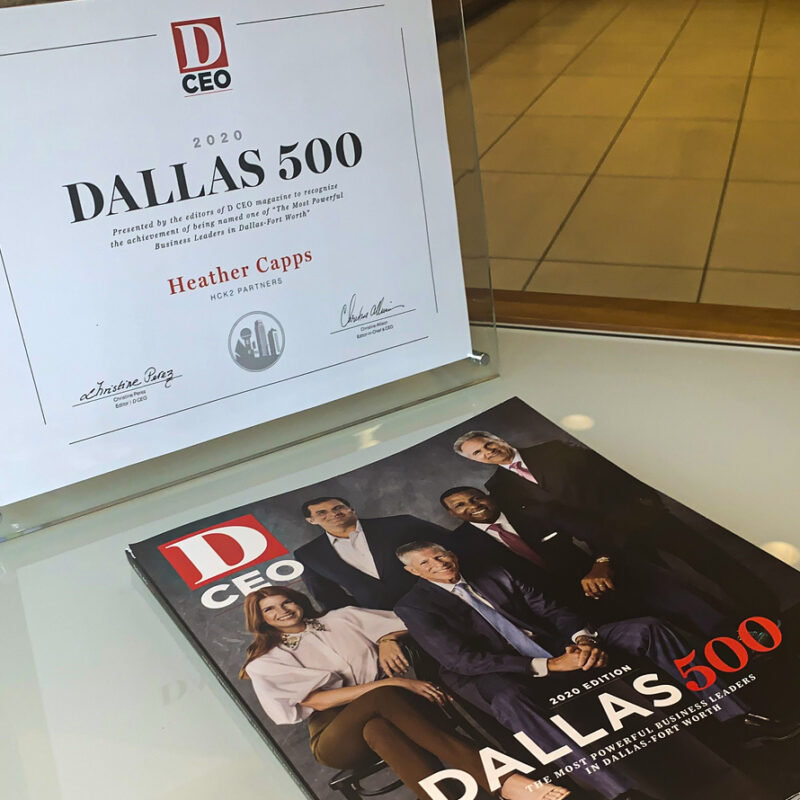 Heather Capps Recognized Among D CEO's 500 Most Influential Leaders in Dallas
ADDISON, TX (Nov. 5, 2019) – Heather Capps, President & CEO of HCK2, a Dallas marketing communications agency, has been named to D CEO's Dallas 500 list of North Texas' most influential leaders.
The prestigious Dallas 500 list honors the most powerful top executives in more than 60 business categories across North Texas. The annual publication includes profiles on the 500 business leaders, sharing both personal and professional details that make these individuals stand out in their industries.
"To be included on the D CEO Dallas 500 list among our region's top business leaders is an honor, not just for me, but for the entire team at HCK2," said Heather Capps, HCK2 President and CEO.
Heather has been at the helm of HCK2, providing her leadership and expertise in marketing communications and continually growing the company for more than 20 years. Currently, Heather is a member of Executive Women's Forum advisory committee and serves as a board member for several area nonprofit organizations, including Nancy Lieberman Charities and Ability Connection. Heather and HCK2 were most recently featured in the 2019 edition of the Dallas Business Journal's Book of Lists, with two top-five rankings for the tenth year in a row.
The D CEO Dallas 500 is the region's highly selective database of people who run DFW businesses, based on extensive contacts in North Texas business circles, hundreds of interviews and months of research. The special edition is published annually and honorees are chosen by D CEO editors following nearly six months of research.
To learn more about Heather and other Dallas 500 selected honorees, pick up a copy of D CEO Dallas 500 on Nov. 13, 2019.
About HCK2
HCK2 is a Dallas marketing communications agency known for its excellence in strategy, creative, web, public relations and digital/social media work. During the past two decades, the agency has built a diverse client portfolio across B2B, B2C, non-profit and government sectors, ranging from global billion-dollar businesses to regional operations, most of which have headquarters or a major presence in North Texas. Companies turn to HCK2's team to help address a specific business challenge, opportunity or organizational trigger, such as a product launch, rebrand, merger or acquisition, anniversary or crisis situation. For more information, visit www.hck2.com.